Now you can confidently craft your personal story as a co-author in an anthology (a collaborative book) with the help of 20-year media pro and bestselling author, Dr. Andrea Pennington of Make Your Mark Global.

Has anyone ever told you that you should write a book?
Is your personal life more interesting or inspiring than fiction?
Do you have a deep yearning to get published but haven't managed to get your ideas organized, written, and out into the world?
If so, what's holding you back?
Maybe you thought getting a book written and published was just too daunting and scary. Well, I know how you feel. In fact the number one reason people don't share their personal stories is due to fear.
Well fear no more!
That's exactly why the MVP Publishing Process was created.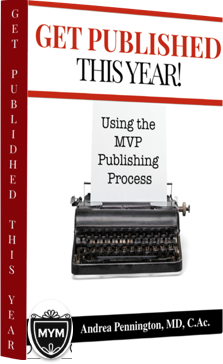 For over a decade Dr. Andrea has helped people around the world become published authors using her signature MVP Process.
---
With step-by-step guidance in the MVP Publishing Process you will:
Uncover the gems hidden within your personal and professional life which will help the reader get to know you on multiple levels
Create a life timeline of significant events that can lead the reader on a journey of discovery with you
Cut and polish your 'diamond in the rough-draft' to create a stunning manuscript you are proud to present
Discover how your personal story can be used to create courses, workshops and keynote speeches
Craft a TED-worthy presentation or keynote speech so that you attract more clients, more speaking engagements & earn more money
Don't let another year pass by without sharing your story, message and wisdom with the world!